There are a variety of reasons for companies to assess their cabling needs and seek out the products and services of a structured cabling contractor. If your organization is moving into a new office and needs cables to be installed throughout, you'll need extensive services.
However, if your new office has existing cabling, you may need the services of North Shore Technologies to assess and augment the infrastructure. And many offices simply come to the conclusion that their working cabling system is out of date or contains cables which need to be tested; we are happy to come to your aid no matter the scope of your needs.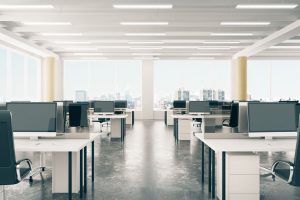 Are you moving into a new office space?
When moving into a new office space without existing cabling, you'll need both a phone system and internet, and North Shore Technologies can handle the cabling for both of these needs. We offer both physical phone systems and Nextiva systems, which is cloud-based and may be more appropriate for your organization.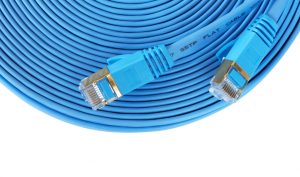 The length of a cable run is important
In order to determine your internet cabling requirements, we will assess your space and will recommend either a CAT 6 cabling system or a more complex fiber optics system depending on the layout and size of your office. CAT 6 cables are the latest standard in cabling, offering better performance in terms of speed. For larger facilities, especially those which contain various wiring closets, you may need a fiber optics system.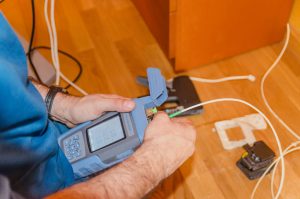 Assess the existing cabling
If your company is moving into an office with existing cabling, you'll need an assessment of the cables in place to determine which cables are in working condition. North Shore Technologies offers a comprehensive cable plan audit which will let us know which cables need to be tested, certified, and relabeled.
And many companies may need this type of audit even when they are staying in their current office space. If you suspect that some of your cables may not be working optimally, or if you think your office could benefit from an upgrade from an older CAT 5 system to a CAT 6 system, North Shore Technologies can audit your existing system and make recommendations which will suit your business' needs.
Schedule a free consultation
Businesses in Cleveland and Northeast Ohio can rely on our excellent customer service, free audit and consultation, and professional expertise whether moving into new space or simply assessing existing cabling systems.
Our customers can rest assured that we will look at their needs in terms of space, layout, speed, and performance, and will make the recommendations necessary to keep their daily operations running smoothly.
If you would like to learn more about our structured cabling services, please call North Shore Technologies at 440-392-9928, or complete our online request form.